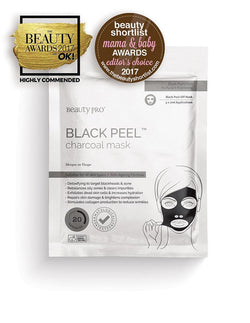 BeautyPro
BeautyPro Black Peel Charcoal Mask, 3 x 7ml
Description
Deep cleanse your skin & refine blocked pores with this innovative BeautyPro Black Peel Charcoal Mask. Its skin rejuvenating formula works to loosen blackheads and remove impurities from deep within the skin; all whilst clarifying and purifying, rebalancing oily areas.
Ideal for those with acne prone skin, this powerful mask targets blackheads and spots; exfoliating dead skin cells, adding firmness and hydrating the skin. Simply peel the mask away when done to reveal fresh, clear skin! 
How to Use
Cleanse & dry your skin before carefully applying the mask. Use clean finger tips or a mask brush to smooth it to the skin; avoiding the hairline, eyes and lips. Relax for approx 20 minutes or until the mask is fully dry and elastic.
To remove, gently peel away in an upward motion. Rinse with warm water and then follow with your favourite BeautyPro Collagen Sheet Mask.
Ingredients
Activated Charcoal, Deep Sea Water, Extracts of Grapefruit, Lavender, Strawberry Ginkgo Biloba Leaf, Orange, Green Tea, Tea Tree and Lemon.